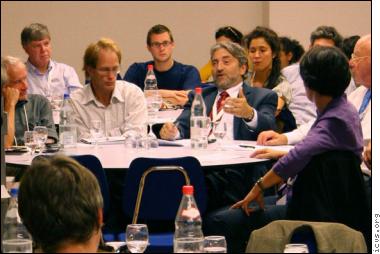 Conference Consulting
Organizational Consulting for Conferences:
Design
Development
Audit
Recommendations
Implementation
The ICV Service Team accompanies you in the management of your conferences, congresses and events. Our acquired experience (over 400 international events) allows us to guarantee a professional service for some or all of your needs in terms of conferences. Our modus operandi consists in establishing a working team (sometimes a single project manager), whose remuneration is the subject of a fixed mandate fee decided on the basis of a preliminary estimate* accepted by the client.

* The fee connected with the drawing-up of the estimate will be deducted from the overall invoice.
Phase I: Preparation
Determining the needs
Developing the schedule
Carrying out an on-site visit
Phase II: Conference proceedings
Organizing the final preparations
Installing equipment on-site
Organizing briefings
Welcoming the participants
Coordinating management
Managing the social program
Phase III: Running of the Conference
Organizing communication with the press
Taking care of the speakers
Welcoming delegates
Coordinating the exhibitors
Coordinating the service providers
Ensuring statistical follow-up
Managing the schedule
Monitoring the budget
Organizing the schedule with a timetable