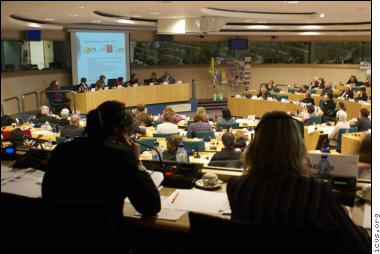 Translation & Interpretation
ICV guarantees a professional translation service to you, performed in the most appropriate form.
Simultaneous interpretation: this is the most common form; you require technical equipment including booths, microphones and headsets.
Consecutive interpretation: without a technical system, it requires more time as it is carried out in sequences which recaptures the speaker's intervention.
Whispering: used in exceptional cases for a maximum of 2 to 3 people beneficiaries.
ICV provides you with teams of qualified interpreters whose language and technical skills meet your expectations.
ICV works according to the professional standards of the International Association of Conference Interpreters (AIIC) and may also recruit qualified interpreters in other countries.
Through our vast network of support and volunteers, ICV can mobilize interpreters in other countries of the world.

For more rare languages, including languages of the new member countries of the European Union, we benefit from the contacts which our international network offers us.
If you wish, we can put you in contact with a service provider who will be able to propose a quote for the technical equipment to you.